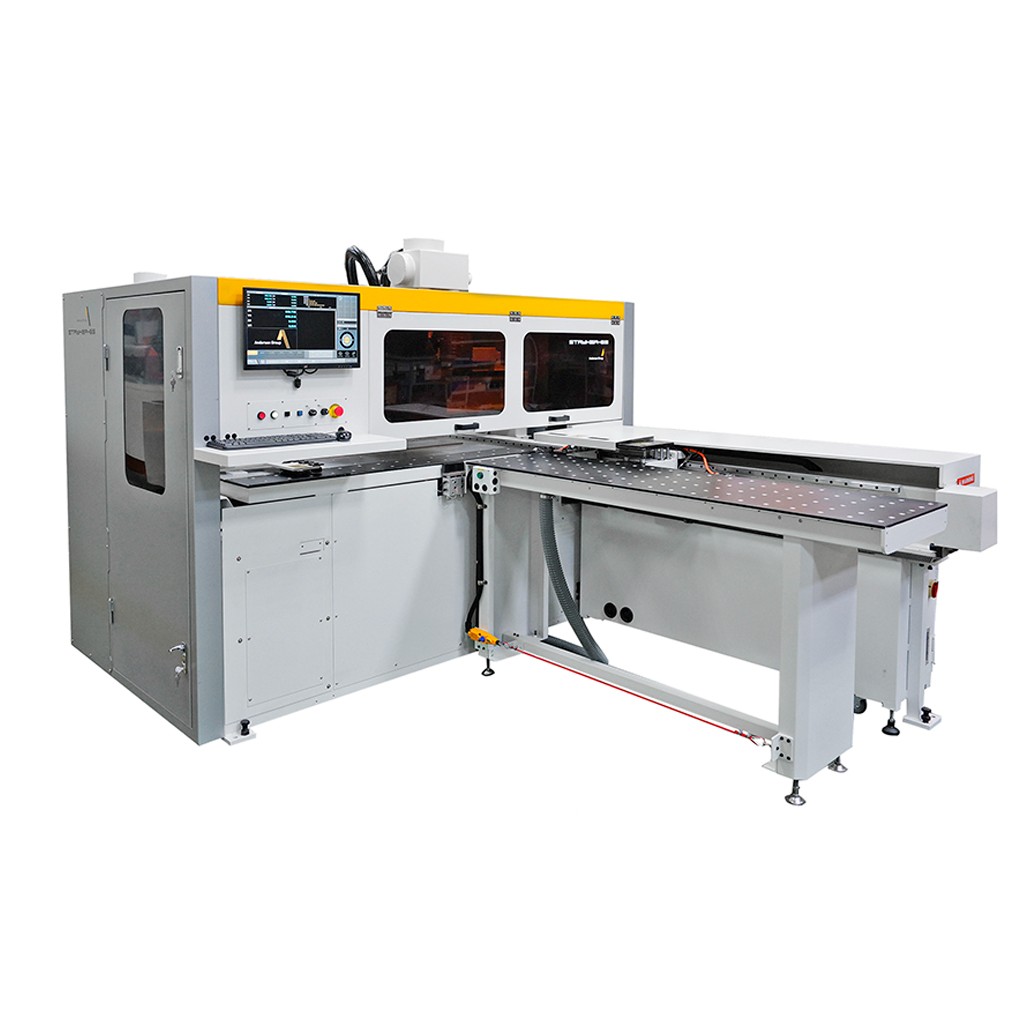 Through Feed Point To Point
STRYKER-6S
The POINT to POINT through feed machining line has revolutionized the field of boring,

grooving and routing thanks to its innovative technology and maximum flexibility and productivity.

This series has been designed to obtain the maximum flexibility possible while maintaining a high volume output.

No machine setup time therefore greatly increased part to part throughput and overall productivity.

Exclusive optical part reading for perfect edge referencing and boring without depending on the operator's accuracy.

Fully automatic parts positioning by the machine therefore operator misfeeds are no longer an issue.

Small batch random part processing is as effective as large run processing

-Material feeding system feature, with optional auto barcode reader for scanning and feeding material for full automatic process.

-Air-floating table design, to reduces friction and avoid the scratch on the surface of material.

-Servo gripper feature, machine is able to record the position of grippers,

no need reference back and forth during working and no down time necessary.

Duo gripper system makes the machine able to process material up to 2,400mm.

-With 2 drill unit (from top and bottom), able to process 6 side of material in one pass, much improve the production efficiency.

-Ballscrew drive system, provide stable and accurate processing quality.




TECHNICAL DATA
MODEL
STRYKER-6S
CLAMP PIECE DIMENSIONS
L*W*T MAX
2400*1200*50
mm
L MIN.
>350
mm
W*T MIN.
50*10
mm
WORK DIMENSIONS (FULL COVER)
X*Y*Z
2400*1200*50
mm
Y drill (top)
Y DIRECTION MAX.
1200
mm
Y drill (bottom)
1200
mm
Router (top)
1200
mm
Router (bottom)
180~1200
mm
V drill & X drill (top)
1200
mm
MAX. FEED SPEED
X1 & X2 AXES
60
M/MIN.
Y1 & Y2 AXES
60
M/MIN.
U AXIS
30
M/MIN.
Z1 & Z2 AXIS
15
M/MIN.
NO.1 MULTI-DRILL
DRILL ROTATION SPEED
4800
RPM
Y * X, HX, HY -> 7X6, 2+2, 2+2 (top)
SHANK OF DRILL
D=10
mm
Y * Y -> 4 X 3 X 4
SHANK OF DRILL
D=10
mm
NO2. ROUTER
SPEED
1000~16000
RPM
ROUTER NOSE
ER 25
 
POWER
NO.1 MULTI-DRILL
1.5
KW
NO.1 ROUTER
3
KW
NO.2 MULTI-DRILL
1.5
KW
NO.2 ROUTER
3
KW
N/A
KW
AIR PRESSURE
HOSE: 3/4"
6
KG/CM2
CONSUMPTION
330
L/MIN
NC CONTROLLER
SYNTEC
DIMENSIONS
FLOOR AREA (W*D)
4500 X 5500 6600X8500(FL)
mm
HEIGHT
2000
mm
WEIGHT
2000
kg
Through Feed Point To Point
STRYKER-6S
Through Feed Point To Point /
Video
STRYKER-6S
Through Feed Point To Point /
Download
STRYKER-6S