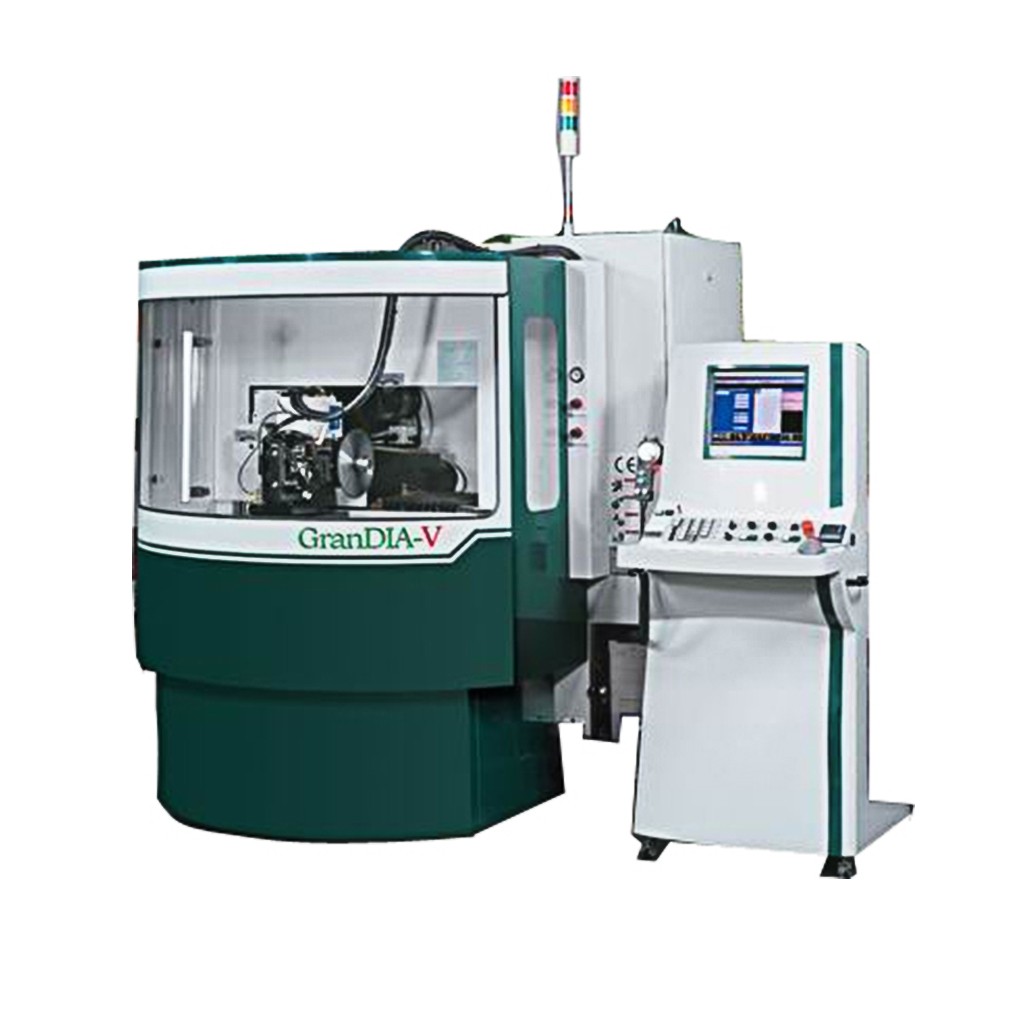 Toolgrinding
GRANDIA
About the GRANDIA M and GRANDIA V



With over 20 years, the ANDERSON Group is specialized in CNC controlled machines mainly for non-ferrous applications.

The best components and leading machine development by KANEFUSA guarantee high quality in finishing in a economic process. The close cooperation with our customers and listening to their demands, let us develop solutions of the whole process chain. The GranDia is the latest revolution of tool grinder for making and resharpening for PCD-Diamant saw blades.



1. Full Automatic Resharpening on PCD Sawblade

Full automatic mechanical grinding on PCD sawblade is now possible with GranDIA with the special machine structure and technology for controlling on grinding wheel wear. Various tooth shape can be sharpened by choosing pre-registered programs. GranDIA is also capable of sharpening on PCD and TCT mixed

sawblade(KANEFUSA B type) automatically. Full automatic operation saves a log of labor cost.



2. Easy OperationGranDIA machine structure and operation system is simple and yet accurate, making the machine

operation so easy for anyone, even for people who sharpen PCD tool for the first time.



3. Higher ProductivityMore than 10% reduction of sharpening time, compared with an electric discharge machine.



4. Options

The maximum 20 tooth configuration can be registered in the machine. 30% further reduction on sharpening time

is possible with an option of no-dressing wheels. (Consumption of wheels increase with this option).
SPECIFICATIONS
| Basic configuration | Grandia M | Grandia V |
| --- | --- | --- |
| Front Rank Angle | +5° to -15° | 5° to -15° |
| Side Rank Angle | -45° to +45° | 5° to -95° |
| Tool Diameter | 125 mm ~ 400 mm | 80 mm ~ 420 mm |
| Tool Depth | 3 mm ~ 50 mm | 2 mm ~35 mm |
| X-Axis Stroke | 265 mm | 476 mm |
| Z-Axis Stroke | 90 mm | 107.5 mm |
| A-Axis Stroke | 0° to 360° | 0° to -360° |
| B-Axis Stroke | -46° to +46° | 6° to -96° |
| Up-Down | max. 150 mm | max. 200 mm |
| Forward-Backward | max. 140 mm | max. 138 mm |
| Motor Power | 2 hp | 2 hp |
| Rotation Speed | 1400 rpm | 1400 rpm |
| Grinding Wheel Type | SD 600 | WA400H |
| Grinding Wheel Size | 125D x 10W x 32T x 6X x 38H | 125D x 10W x 2T x 6X x 38H |
| Dress-Axis Power | 60 W | |
| Dress-Axis Rotation Speed | 30/36 (50/60) Hz | |
| Grinding Wheel Type | WA400H | |
| Grinding Wheel Size | 150 x 65T x 31.75H | |
| Motor of Cooling System Power | 1/4 HP | 1/4 HP |
| Coolant Tank | 100 l | 100 l |
| NC Controller | ANDI FANUC | ANDI FANUC |
| | | |
| Floor Area of Machine | 2050 x 1655 mm | 2050 mm x 1655 mm |
| Height of Machine | 2640 mm | 2640 mm |
| Weight of Machine | 2500 kg | 2500 kg |
Toolgrinding
GRANDIA
No image available now
Toolgrinding /
Video
GRANDIA
No video available now
Toolgrinding /
Download
GRANDIA
No document available now