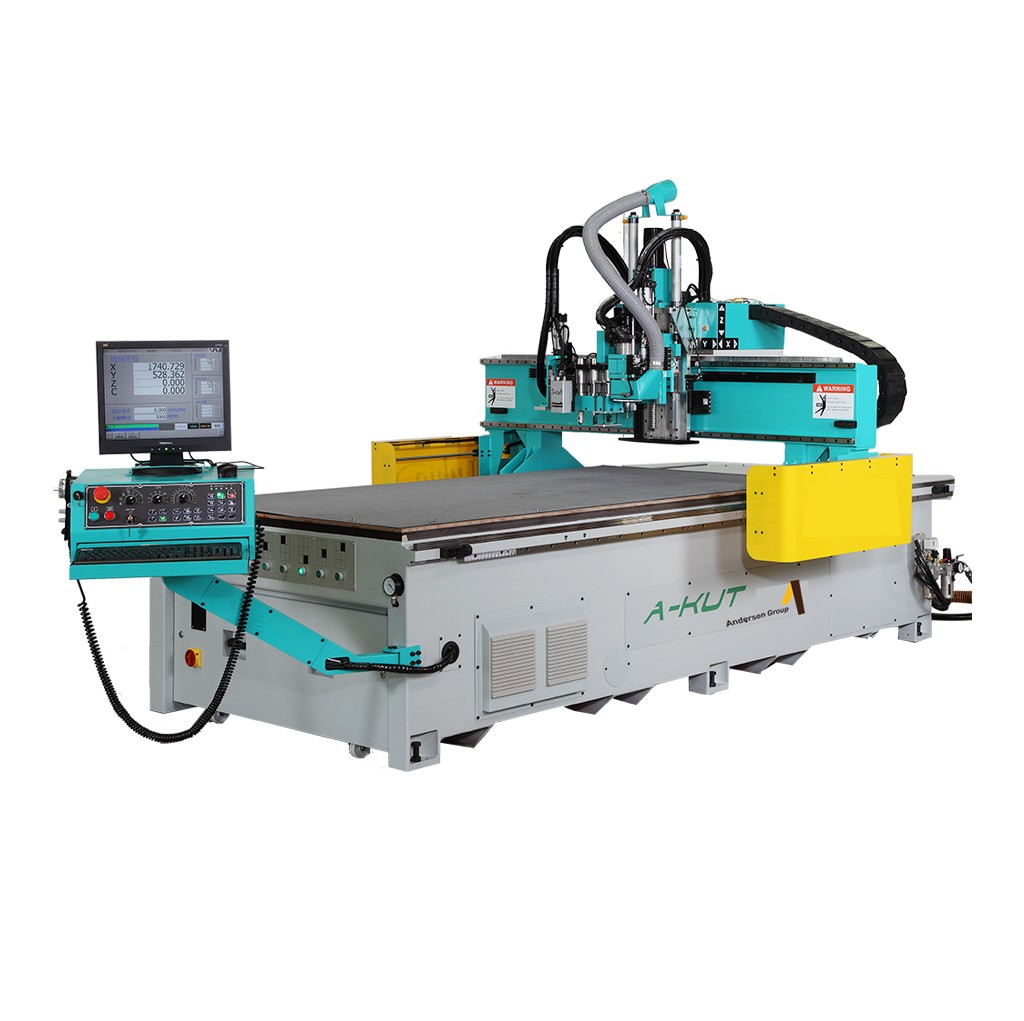 CNC Akut-Series
AKut
About the Akut-Series
Akut-High Performance CNC multi tool
Cutting System for sign and graphic shops
The A
k
ut is a multi-functional CNC processing center that integrates routers, vibration knife, Kiss heads, creasing tool is suitable for different kind of rigid materials used in digital printing world. Besides, Akut also combines with i-Cut CCD vision system provides the best solution for cutting after printing.


Equipped with a 11 HP (8.1 KW) high-speed liquid cooled router spindle with up to 40.000 RPM and an eight (8) position Automatic Tool Changer the Akut offers uncompromising finishing qualities.


The Akut comes standard with a 10 HP BECKER vacuum pump with 250 cbm/hour capacity. This table and pump combination will allow a wide range of flexibility in holding large and small work pieces for safe material processing.


Heavy duty base and gantry construction of the machine gives the Akut rigidity and allows for vibration free operation and clean cutting surfaces.


The Akut is equipped with Tool Length Measuring System (Tool Touch-off Device). This allows for accurate calibration of tool length.


SPECIFICATIONS
| Basic configuration | AKut |
| --- | --- |
| X Axis | 2750 mm (9.8 ft) |
| Y Axis | 1600 mm (5.2 ft) |
| Z Axis | 200 mm (0.65 ft) |
| Table Size | 2500 x 1300 mm (8.2 x 4.2 ft) |
| X Axis | 50 M/min (161 ft/min) |
| Y Axis | 50 M/min (161 ft/min) |
| Z Axis | 10 M/min (32.2 ft/min) |
| No. of Spindles | 1 |
| Tool Holder Shank | ANDI HSK32E, water cooled |
| Speed | 8.1 kw, 1,000 - 40,000 rpm |
| Oscillating Cutting No. 2 | 1 with 0.15 kw motor power, Stroke: 0.3 mm |
| Kiss Cutting No. 3 | 1 (can be replaced to a V-cut device) |
| Creasing Tool No. 4 | 1 Crease wheel with 32 mm diameter |
| CCD | i-Cut |
| Tool Dia For Router Bit (O.D.) | Max. Ø13 mm (Ø 0.512 inch) |
| Power Requirements | 220 V, 60 Hz, 50 A, 3 P |
| ATC Head | 8.1 kw x 1 (10.8 hp) |
| Oscillating Cutting | 0.15 kw x 1 (0.2 hp) |
| Vacuum Pump 250 cbm/hr | 1 Blower with 5 hp (3.75 kw) |
| Air Pressure | 6 kg/cm2 (85 lb/in2) |
| NC Controller | ANDI-SYNTEC PC based Controller |
| Floor Area | 6000 x 3750 mm (19.685 x 12.303 ft) |
| Height | 2200 mm (7.218 ft) |
| Weight | 2500 kg (5511.48 lb) |
| Air Consumption | 450 L/min (15.9 cfm) |
| Suction Capacity for Main Spindle | 1495 m3/hr (880 cfm) |
| Total connected Load | 22 kw/64 - 34 - 27 A |
CNC Akut-Series
AKut
No image available now
CNC Akut-Series /
Video
AKut
No video available now
CNC Akut-Series /
Download
AKut
No document available now